ABOUT THE BOOK
Meet the people who make it all happen—the planners, the photographers, the musicians who have helped orchestrate the perfect day for countless couples—as they find their own happy endings in the second Year of Weddings novella collection.

Meeting Nick was truly an accident—but Amelia finds that he's one of the few people she can count on.

Amelia Woods is a small-town wallflower who inherited her grandmother's flower shop. Despite her success in business, her love life has ground to a halt. And then her temptation to spy on her ex-boyfriend's wedding leads her to a horrifying fender-bender—with Nick, the groomsman who happens to be her ex's new brother-in-law.

Meanwhile, William, Amelia's younger brother, has proposed to his girlfriend. Amelia would be excited except she has evidence that the fiance is not who she says she is. How can she be supportive and yet be the protective big sister too? It seems Nick is the only one available for any advice-giving, and he's pretty good at it—and pretty fun to talk to. Amelia and Nick continue online conversations about everything, but always lingering in Amelia's mind is the fear that he'll realize who she is and what she was doing at the church that day of the accident.

As Amelia works to craft the perfect flower arrangements for other people—including a ninety-year-old "fairy godmother" named George—she begins to wonder if real love is better than the dream. And if it is, will Nick still be interested when he learns who she is?
MY REVIEW
I really enjoyed this Year of Weddings novella. The fun quirkiness of how Amelia and Nick meet is carried on throughout the book. Especially with their ongoing conversations through emails. I liked the use of emails vs texting because it gave them room for actually conversing. I love the fact that Amelia owns a flower shop (simply because I love flowers!). A great little novella with a sweet romance.
*Thanks to BookLook Bloggers for the complimentary copy of this book for review purposes. All opinions stated are my own.*
View all my reviews
~~~~~~~~~~~~~~~~~~~~~~~~~~~~~~~~~~~~~
ABOUT THE AUTHOR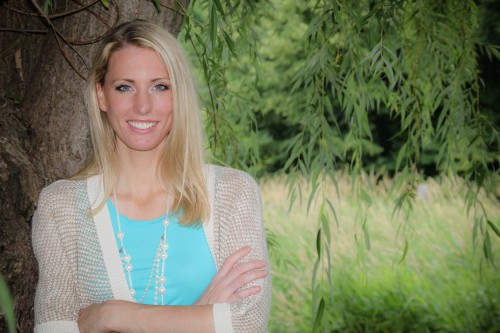 Award-winning author, Katie Ganshert, graduated from the University of Wisconsin in Madison with a degree in education, and worked as a fifth grade teacher for several years before staying home to write full-time. She was born and raised in the Midwest, where she lives with her family. When she's not busy penning novels or spending time with her people, she enjoys drinking coffee with friends, reading great literature, and eating copious amounts of dark chocolate. You can learn more about Katie and her books by visiting
her website
or
author Facebook page
.


~~~~~~~~~~~~~~~~~~~~~~~~~~~~~~~~~~~~~